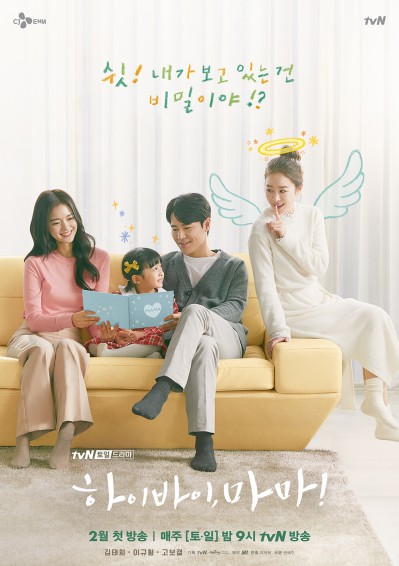 Hi Bye, Mama!
Hi Bye, Mama!
---
Title: 하이바이, 마마! / Hi Bye, Mama!
Genre: Fantasy, Comedy
Episodes: 16
Broadcast network: tvN
Broadcast period: 2020-Feb-22 to 2020-April-19
Air time: Saturday & Sunday 21:00 KST
The drama is about a woman, Cha Yoo Ri (Kim Tae Hee) who after passing away in a tragic accident, is able to return to her husband, Jo Kang Hwa (Lee Kyu Hyung) and daughter for 49 days as a ghost.
Main Cast
Kim Tae Hee as Cha Yoo Ri
Lee Kyu Hyung as Jo Kang Hwa
Go Bo Kyul as Oh Min Jung
Shin Dong Mi as Go Hyun Jung
Lee Shi Woo as Jang Pil Seung
People around Cha Yoo Ri
Kim Mi Kyung as Jeon Eun Sook (Cha Yoo Ri's mother)
Park Soo Young as Cha Moo Phung (Cha Yoo Ri's father)
People around Jo Kang Hwa
Ahn Nae Sang as Professor Jang
Oh Ui Shik as Gye Geun Sang
People around Jang Pil Seung
Park Eun Hye
Kim Dae Gon
Shin Soo Yun
Others
Yoon Sa Bong as Mi Dong
Ban Hyo Jung as Mrs. Jung
Bae Hae Sun as Sung Mi Ja
Bae Yoon Kyung as Ghost
Han In Soo as Chairman Jo Kyung Hwan
Moon Hee Kyung as Lee Mi Ja
Kang Yeon Jung