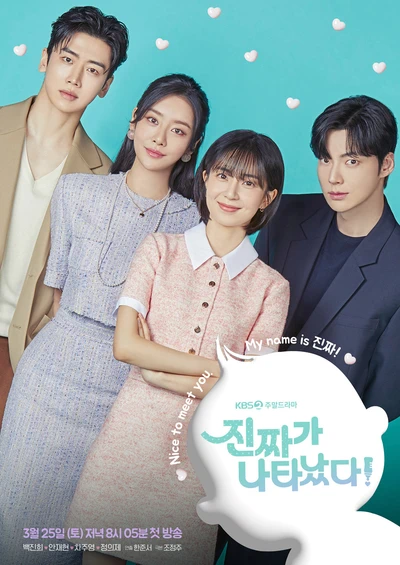 The Real Has Come!
The Real Has Come!
---
Title: 진짜가 나타났다! / The Real Has Come!
Genre: Family, Romance
Episodes: 50
Broadcast network: KBS2
Broadcast period: 2023-Mar-25 to 2023-Sep-10
Air time: Saturday & Sunday 20:05 KST
Oh Yeon Doo is an optimistic online lecturer who teaches the Korean language. After going through many hardships, she finally gets a stable home and career which allow her to prepare for marriage. However, a new dilemma of becoming a single mother occurs. That is when she meets her doctor, Gong Tae Kyung. Although he chose to be a misogamist, a man who wishes to avoid marriage and a woman who is willing to birth a baby without a father starts a relationship. Hence, the contract romance begins with the baby as collateral. Would their impudent lie be able to fool their families to the end?
Main Cast
Baek Jin Hee as Oh Yeon Doo
Ahn Jae Hyun as Gong Tae Kyung
Cha Joo Young as Jang Se Jin
Jung Eui Jae as Kim Joon Ha
Supporting Cast
Kang Boo Ja as Eun Geum Sil
Hong Yo Sub as Gong Chan Shik
Cha Hwa Yun as Lee In Ok
Kim Hye Ok as Kang Bong Nim
Kim Chang Wan as Jang Ho
Ryu Jin as Kang Dae Sang
Choi Dae Chul as Gong Chun Myung
Yoon Joo Hee as Yeon Soo Jeong
Kim Sa Kwon as Cha Hyun Woo
Choi Ja Hye as Gong Ji Myeong
Lee Kan Hee as Joo Hwa Ja
Choi Yoon Je as Oh Dong Wook
Lee Ye Hyun as Gong Yoo Myeong
Jung Seo Yeon as Oh Soo Gyeom