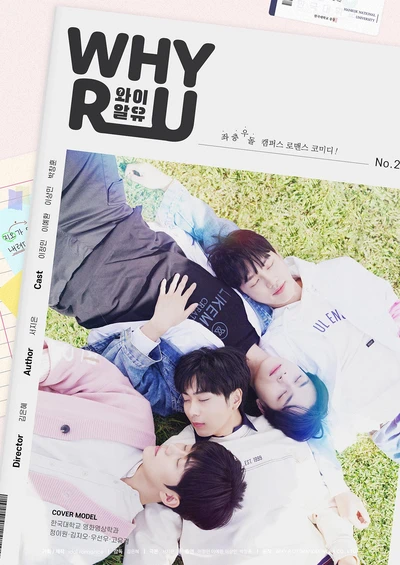 Why R U?
Why R U?
---
Title: 와이알유? / Why R U?
Genre: BL, Romance
Episodes: 8
Broadcast network: Heavenly
Broadcast period: 2023-Aug-24 to 2023-Sep-14
Air time: Thursday 12:00 KST
Jung Lee Won (Lee Jung Min) is a student at a leading South Korean university. He is majoring in acting and hopes to become a star in the future. His nemesis is Kim Ji Oh (Lee Ye Hwan), a student in the same academic year who is majoring in Directing. They bicker whenever they meet and constantly accuse one another of getting in each other's way. The nature of their majors, however, means they often have to work together.
However, little did Jung Lee Won know that his younger sister is writing an online BL novel where he and Kim Ji Oh are lovers! One day, Jung Lee Won uncovers his sister's secret writings and becomes outraged. He vows that if there is any truth in the fact that he secretly likes Kim Ji Oh, the novel's fantastic storyline should become reality. He may soon rue this vow, though! At university, he finds he must spend more time with Kim Ji Oh than ever. And he starts to wonder if he really is starting to feel the pull of attraction to his bitterest enemy…
Subtitles:
Internal ara, chi, eng, ind, jpn, may, spa, tha, vie softsubs embedded
Learn How to download
Main Cast
Lee Jung Min as Jung Lee Won
Lee Sang Min as Woo Sun Woo
Park Chang Hoon as Ko Yoo Kyeom
Lee Ye Hwan as Kim Ji Oh