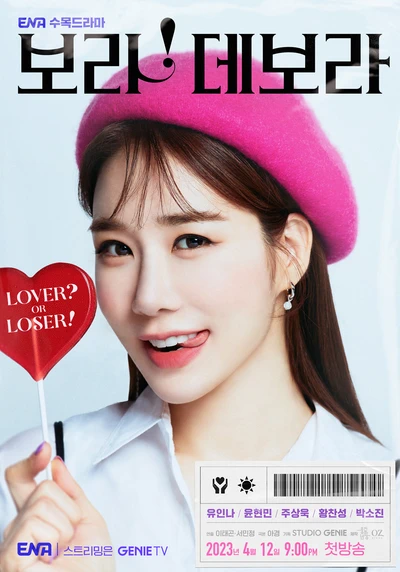 Bora! Deborah
Bora! Deborah
---
Title: 보라! 데보라 / Bora! Deborah
Also known as: True to Love
Genre: Comedy, Romance
Episodes: 14
Broadcast network: ENA
Broadcast period: 2023-Apr-12 to 2023-May-25
Air time: Wednesday & Thursday 21:00 KST
The series follows the romantic journey of Yeon Bo Ra, a celebrated love coach and successful author of romance novels, and Lee Soo Hyuk, a charming man who grapples with matters of the heart.
As a discerning publishing planner, Soo Hyuk is not easily impressed and initially has a negative impression of Bo Ra. However, their lives become entangled unexpectedly, and he becomes increasingly drawn to her.
Meanwhile, Han Sang Jin, Soo Hyuk's friend and business associate, heads the Jinri book publishing company.
Main Cast
Yoo In Na as Yeon Bo Ra / "Deborah"
Yoon Hyun Min as Lee Soo Hyuk
Joo Sang Wook as Han Sang Jin
Hwang Chan Sung as Noh Ju Hwan
Park So Jin as Lee Yu Jung
Supporting Cast
June as Yang Jin Ho
Kim Ye Ji as Yeon Bo Mi
Hong Hwa Yeon
Lee Sang Woon as Yang Jin Woo
Kim Ji An as Yoo Ri [Soo Hyuk's girlfriend]