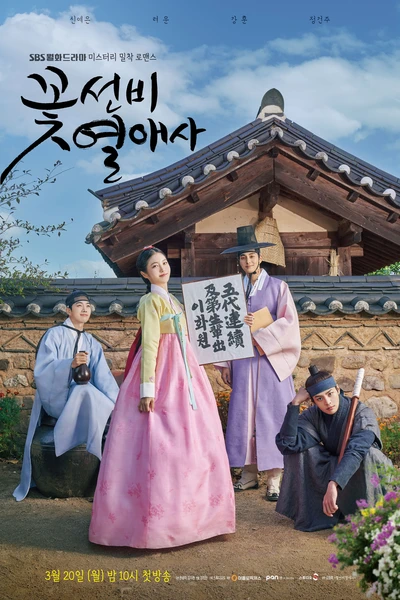 The Secret Romantic Guesthouse
The Secret Romantic Guesthouse
---
Title: 꽃선비 열애사 / The Secret Romantic Guesthouse
Genre: Historical, Mystery, Romance
Episodes: 18
Broadcast network: SBS
Broadcast period: 2023-Mar-20 to 2023-May-16
Air time: Monday & Tuesday 22:00 KST
As the beloved youngest daughter of a well-to-do family, Yoon Dan Oh (Shin Ye Eun) lived a charmed life. At least she did until the day fate dealt her with a rather cruel blow. No longer able to indulge in the carefree lifestyle of a cherished daughter, Dan Oh must do everything she can to help support her family.
The proprietors of Ihwawon Inn, Dan Oh, and her family warmly welcome those looking for a place to stay during their visit to Hanyang. As the majority of those traveling to the area are young men preparing to take the civil servant entrance exam necessary for becoming a ranking official, Ihwawon Inn is frequently visited by a large number of scholars. Among those scholars are Kang San (Ryeoun), Kim Si Yeol (Kang Hoon), and Jeong Yoo Ha (Jung Gun Joo), three very different young men who each harbor a deep secret.
While the young scholars prepare for the exam they, along with Dan Oh, stumble upon bits of information that all seem to tie into a strange disappearance that happened thirteen years ago. Pooling their knowledge, will this unlikely quartet be able to solve this mystery or will they find themselves too distracted by the sudden and unexpected flutterings of their unruly hearts?
Main Cast
Shin Ye Eun as Yoon Dan Oh
Ryeoun as Kang San
Kang Hoon as Kim Shi Yeol
Jung Gun Joo as Jung Yoo Ha
Supporting Cast
Hyun Woo as Lee Chang
Oh Man Suk as Jang Tae Hwa
Lee Joon Hyuk as Noh Seong Gil
In Gyo Jin as Yook Ho
Han Chae Ah as Hwa Ryeong
Ahn Nae Sang as Shin Won Ho
Lee Mi Do as Nae Ju Daek
Jo Hye Joo as Heung Jo
Hwang Bo Reum Byeol as Ban Ya
Kwon Do Hyung as Jang Hyeon